Donald Trump is scheduled to appear in court for the first time today in a historic criminal case. The former president is facing charges o...
Donald Trump is scheduled to appear in court for the first time today in a historic criminal case. The former president is facing charges of hoarding top secret government documents, proudly displaying them to visitors, and attempting to hide them from investigators who demanded their return.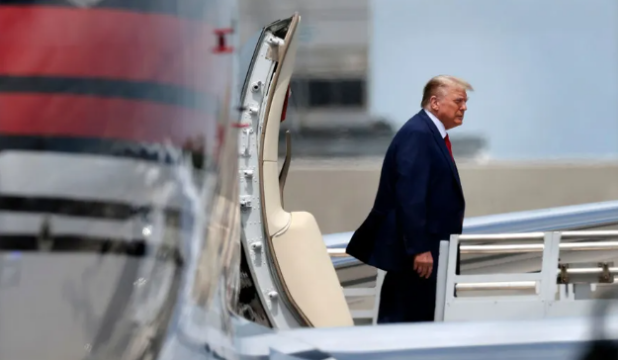 Trump, known for his self-assured demeanor, approaches his court date in Miami with his usual bravado. He maintains his innocence, as he has done throughout numerous legal battles, claiming that he is being politically persecuted. However, the seriousness of the situation cannot be ignored, as he faces 37 felony counts accusing him of deliberately retaining classified records that could have endangered national security if exposed.
This case holds significant political implications for Trump, who currently holds a prominent position in the early stages of the 2024 Republican presidential primary. Moreover, it carries profound legal consequences due to the potential of a lengthy prison sentence. Even for a defendant who has been surrounded by investigations since leaving office, the documents case stands out for both the extensive evidence amassed by prosecutors and the severity of the allegations.
Additionally, this marks a pivotal moment for the Justice Department, which had never before brought charges against a former president until last week. In an effort to shield the department from political attacks, Attorney General Merrick Garland, an appointee of President Joe Biden, assigned the case to a special counsel, Jack Smith, last year. Smith emphasized the principle of equal application of the law, stating, "We have one set of laws in this country, and they apply to everyone."
Although today's arraignment is mostly a procedural step, it represents another extraordinary public reckoning for Trump this year. He already faces charges in New York related to hush money payments during his 2016 presidential campaign, as well as ongoing investigations in Washington and Atlanta regarding his efforts to challenge the results of the 2020 election. Despite the evident legal jeopardy, Trump has sought to project confidence, labeling Smith as "deranged," pledging to continue his political aspirations, and even scheduling a speech and fundraiser at his golf club in Bedminster, New Jersey, for later tonight.
The court appearance takes place amidst the possibility of protests and unrest. Some high-profile supporters have employed inflammatory rhetoric to express their backing for Trump. The former president himself has encouraged his supporters to join a planned protest at the Miami courthouse, where he is expected to surrender to authorities.
Furthermore, Trump supporters from various parts of Florida are planning to travel to Miami by bus, raising concerns for law enforcement officials who are preparing for potential disturbances around the courthouse. Miami Mayor Francis Suarez assured the city's readiness, and police chief Manuel A. Morales indicated that the downtown area could see anywhere from a few thousand up to 50,000 protesters. Depending on the crowd size, traffic may be diverted, and certain streets might be closed off.
As Trump's motorcade approached his Miami resort yesterday, approximately 50 supporters who had gathered across the street erupted in cheers. Trump acknowledged them with a thumbs-up gesture as he passed by, while they waved their pro-Trump signs and banners.
Shortly before Trump's arrival, a near-brawl ensued when a man stood in front of the crowd holding signs and wearing a suit with an offensive phrase targeting the former president. Trump supporters rushed towards him, shouting angrily, until Doral police intervened and moved the man further down the street.
Although a federal grand jury in Washington had been hearing testimony on the documents case for months, the Justice Department filed the charges in Florida. This decision was influenced by the fact that Trump's Mar-a-Lago resort is located there and many of the alleged acts of obstruction occurred in the state. While Trump is set to appear before a federal magistrate today, the case has been assigned to a District Court judge, Aileen Cannon, whom he appointed. Cannon had previously ruled in Trump